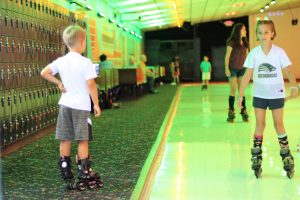 Parents nowadays have a hard time getting their kids off the screens. During winter, this gets even harder. Convincing the kids to engage in outdoor play in winter, a period characterized by shorter, cold days, can be extremely hard. However, some activities are fun, regardless of the weather or season, that kids will enjoy. Roller skating can be good winter fun, a perfect opportunity to get kids off the screen, allowing them to enjoy an activity that they like. They will have a chance to exercise, burn calories, stay fit, and get entertained all at once.
Roller skating has been proven to be a beneficial activity for the kid; it is suitable for their heart and mind. For the heart, the exercise strengthens its muscles, helping in improving the blood circulation. The fact that the work out engages all parts of the body means that roller skating is one exercise that can be enjoyed during winter. When it comes to calorie consumption, roller skating provides a similar effect as jogging. With this kind of metabolism, kids are protected from excessive weight gain and develop improved body strength and reduction in chances of contracting lifestyle diseases later in their lives.
One place where kids can get the winter fun is at Roller Kingdom; here, they get to exercise, burn those calories, and feel refreshed while away from the screens. The center focuses on modern entertainment, roller skates and blades, LED lights, new music, HD projection, among other facilities.
It is not just entertainment and roller skating that makes the Roller Kingdom such a fun place to be during winter or any other season for that matter. It is an ideal place for birthday parties, teen nights, school parties, family fun, among other events.
The more than 25,000 square feet space is designed to provide fun, safety, and entertainment beyond expectations. Apart from roller skating and getting entertained, this is a place where kids can interact with others. Parents are assured that their kids are interacting in a safe environment and that they will not engage in activities that may influence them negatively. Roller Kingdom allows kids to interact and socialize with their peers; they will not only exercise but will also learn some useful social skills.