Are you looking for a fantastic place to stay active during the summer? We've got your ultimate recipe for summer fun. Check out Roller Kingdom for a fun night of roller skating and much, much more. There's no point exercising out in the hot sun when you can come indoors, grab a snack, and spend the night skating your cares away with family and friends. It's the perfect way to stay healthy and cool while engaging in more than your share of fun activities. Whoever said roller skating isn't cool has definitely never been to Roller Kingdom!
Roller Skating is a Cool Way to Stay Active
If you're looking to shed a few pounds for the summer, why do it the hard way? Why not relax, grab a handful of family and friends, and head out to the rink? You'll find a fun way to exercise while enjoying yourself to the max. Roller skating is back and it's better than ever. We've got 2 convenient locations and plenty of activities ready for you to enjoy. After you've spent a few nights roller skating to your heart's content, you can come back for other fun-filled activities. The air conditioning will be on full blast.
A Full Night of Summer Fun is Waiting for You
Do you enjoy laser tag? We can give you quick access to one of the nation's leading pastimes. We have it all planned out for you here. Come on in, suit up, and go tagging with your friends. We've got a 10-minute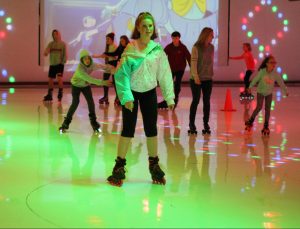 scenario that will leave you breathless with excitement. And, of course, there are plenty of other activities for your kids to enjoy. Roller Kingdom isn't just about roller skating. It's about finding a place where you can stay cool during the hot summer while also enjoying yourself. Come on out tonight and see what all the fuss is really about.
Check Out Roller Kingdom for a Host of Fun Activities
Do you need somewhere to take your family on a hot summer night? The answer is clear: Book your party at Roller Kingdom today. Get in touch with us to get all of the latest details on how we can turn your routine summer night into a whirlwind of fun activities. Check with us to learn more about our special Prize Cube and other attractions. Roller Kingdom is the ultimate place for family fun and much, much more.