Spring break is here. This means that you will have plenty of time off to enjoy a wide range of fun activities. And if you want to spend your vacation in style, why not come out and see us? If you've ever wanted to reconnect with your roots, roller skating is a great way to do it. Come on out to our different locations in Hudson, MA and Tyngsboro, MA and enjoy a night of fun activities. Roller skating is a great way to stay active while enjoying a full night of summer fun with friends and family. Spring break is the perfect time to show off your roller skating prowess.
Roller Skating is Fun for the Entire Family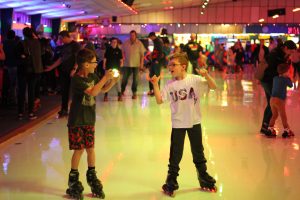 If you really want to enjoy a full night of fun activities, set your sights for Roller Kingdom. We can offer a night of exciting activities that are much more than just nostalgia. Roller skating has come a long way in the past few years and is now more fun and involving than ever. And, of course, there is plenty more to do than just skate. We can give you and your family a night of fun that you are sure to remember for many years to come.
Enjoy a Full Season of Summer Fun at Our Different Locations
There are a million ways to spend your time during spring break. But if you really want to start your warm season off right, why not go roller skating? We have a full range of fun activities available for you and your family. You can relive your own youth with a fun night of roller skating while also keeping fit. Meanwhile, you can introduce your kids to one of the most exciting summer activities known to man. It's a great way to bond with your kids while enjoying a night out on the town.
Book Your Party at Roller Kingdom
Have you got an occasion for a party coming up? Whether it's a birthday, an anniversary, or a spring break celebration, we'd love to host you. Roller Kingdom has several different locations and a full range of fun activities to offer. You can spend the night feasting, roller skating, playing laser tag, and enjoying yourself to the max. Now is the time for you to check out what we can offer you. Call us today to get the party started.