We know that you're ready to Share the Merry and join us for our Vacation Skating hours! With all of our extra hours, and Christmas and New Year's coming up, we wanted to make sure you were up to date on the latest news. Here are three updates just for you!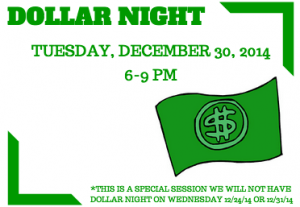 Face Painting
On Monday, December 29, we will have face painting available at both locations for free. Come on out, be creative and have fun with face painting. You can be anything you want to be with the help of our skilled face painting artists!
Dollar Night is on Tuesday, December 30th
Since we are celebrating the New Year's a little early on the 31st, we wanted to make sure you knew that dollar night will not be taking place that night. Instead, we'll be hosting dollar night at Tyngsboro on the 30th. Please note that there is no dollar night on the night of Christmas Eve.
Gift Certificates
We are now offering gift certificates for sale on our website. If you are from out of town, but want to purchase something that you know that skater in your life will use, then don't delay! You can have it mailed directly to their house. Of course, you don't have to live out of town to purchase a gift card for Roller Kingdom!
Keep up with all things Roller Kingdom by following our blog and checking in with us regularly on Instagram, Facebook and Twitter!